點擊查看大圖
View Large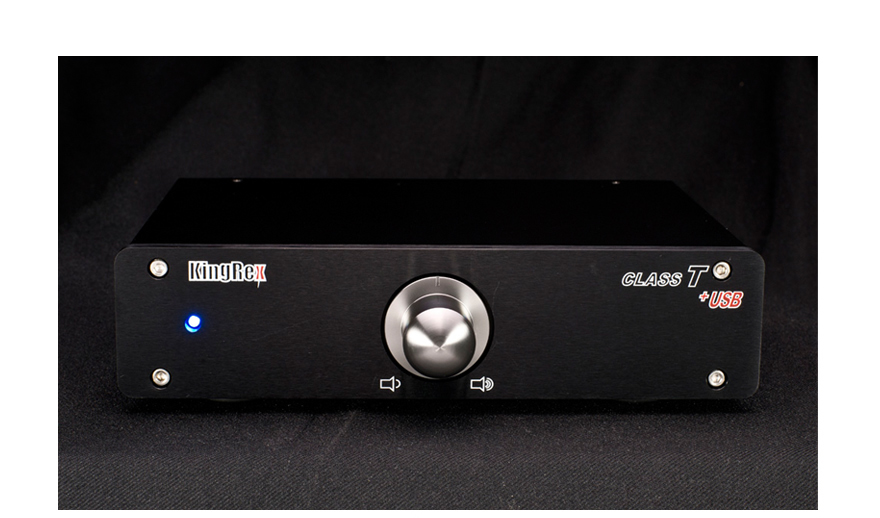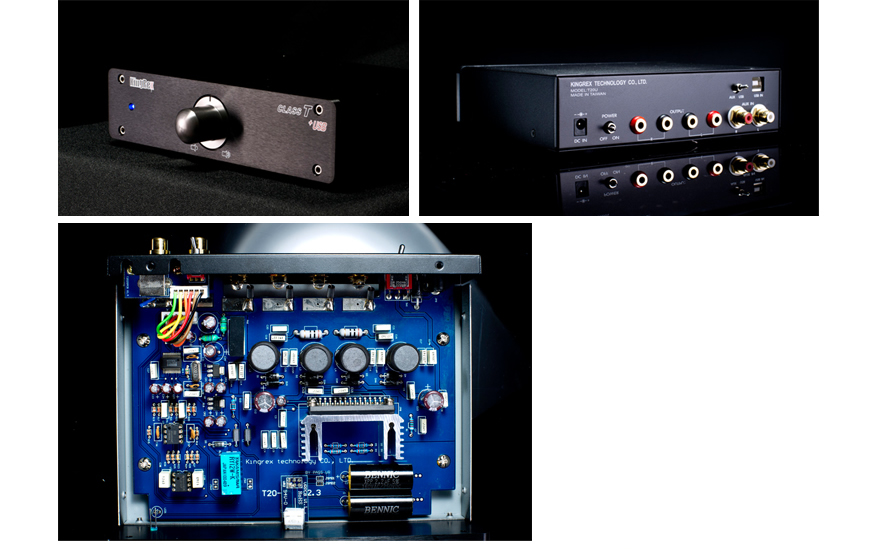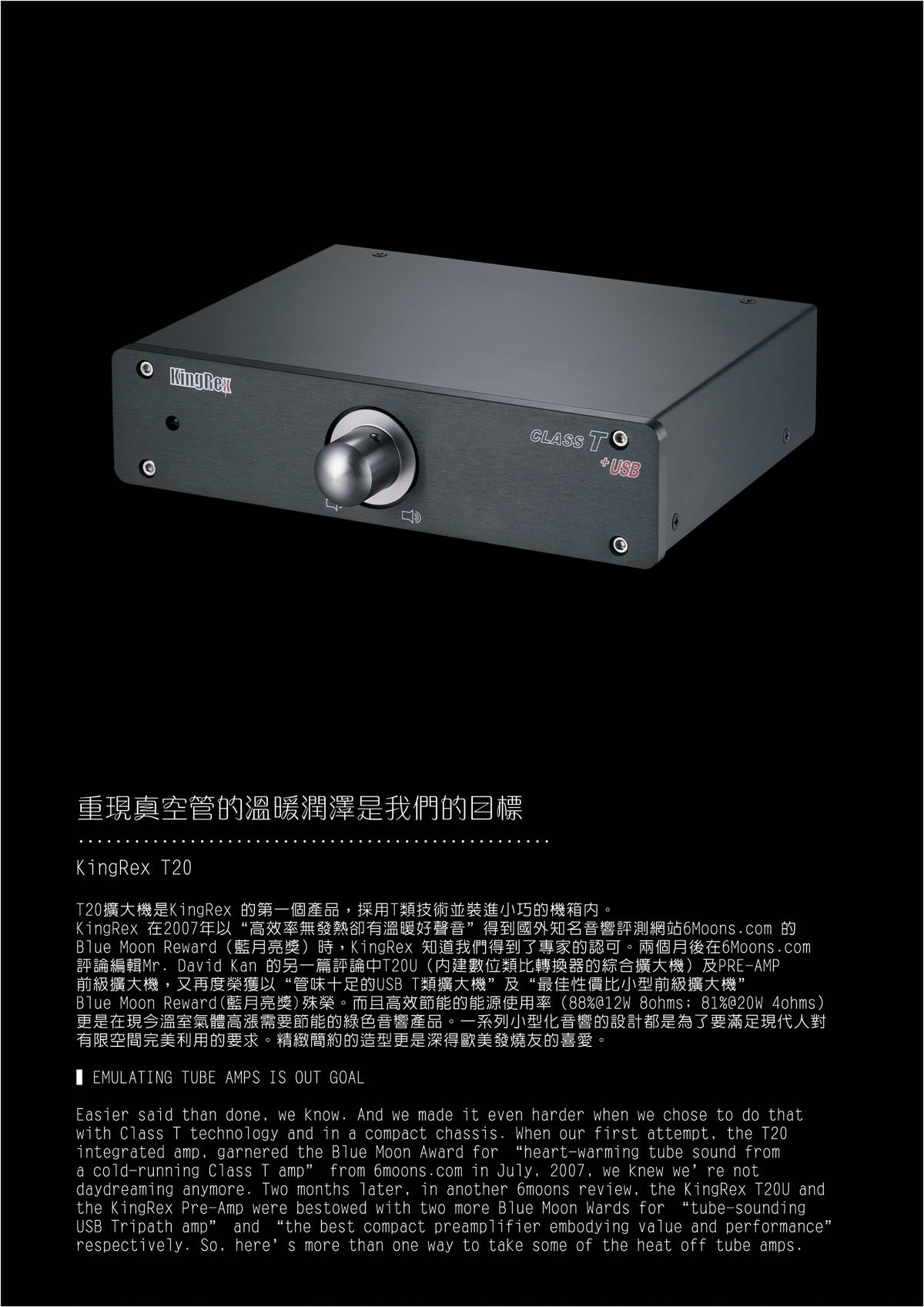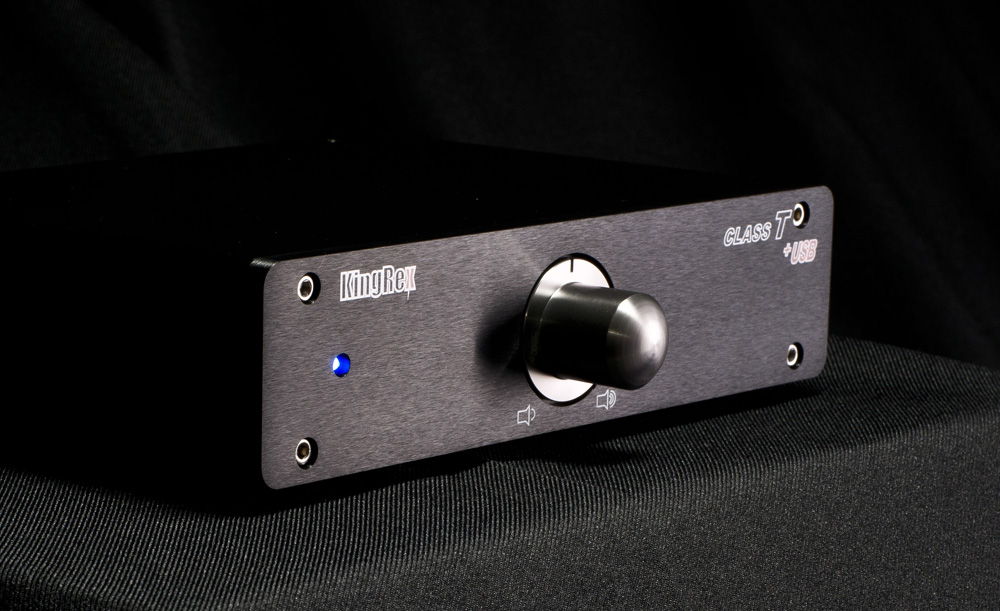 Product Info

Small size, big sound. We are very proud of our entry level amplifier.

Our KingRex T20 Amplifier has more power compared to the original T-AMP's with loudspeakers of average sensitivity (86-90dB, 4-8Ohms).

Boasting impressive full frequency range with THD as low as 0.0004% and dynamic range better than 108dB, the PREference will be the chosen one for discerning audiophiles.

The kingRex T20 is based on the Tripath T2020-20 DPP chip, the KingRex T20 is capable of 2 x 20 watts at 4 ohms with 80% energy efficiency. Featuring one set of gold-plated RCA input and gold-plated bayonet/banana plug speaker terminals, the T20 comes with a universal AC/DC adapter.

Our little Kingrex T20 amplifier will amaze you with its spellbinding performance, ideal for small to medium sized rooms this little amplifier produces a very vivid soundscape, our products may be small in size but the sound they produce is very expansive and captivating, 6 moons summed it up perfectly when the claimed – "The pace of the KingRex T20 AMP was more relaxed, stretching out on a more expansive, deeper set soundstage. This valve bloom syndrome was not masking any definition or instrument placement but rather enhancing them in a more musical way.

Suggested partners for the T20:
1. SLAP - Battery Power Supply
Upgrade for low noise and distortion.
2. Linear Power Supply- PSU / PSU MKII
Upgrade for low noise and distortion.
3. We recommend the marvellousJohnBlue JB3 desk top loudspeakers as the perfect match for the T20

Specification

1. Using TRIPATH ® power module TA2020-20
2. "Audiophile" Quality Sound
0.03%THD+N@10W 4ohm
0.1% THD+N@12W 4 ohm
0.18%IHF-IM@1W 4ohm
3. Power output
22W@4 , 10%THD +N, VDD=13.5V
13W@8 , 10%THD+N, VDD=13.5V
4. High Efficiency
88%@12W 8ohm
81%@20W 4ohm
5. Dynamic Range =99dB
6. Over Current & Over Temperature Protection
7. Using anodize gold RCA and SP terminal
8. 6m/m thickness aluminum face plate and aluminum button switch using audio capacitance.